Troop 166 has existed continuously for over 60 Years of Scouting.
COVID-19 Update
Due to COVID-19 the troop has been doing virtual meetings on zoom every Monday at 6:30 except for Mondays after outings. We are having monthly outings done safely in family pods and will have in person meetings when it is safe. For more information email t.siegel@comcast.net
---
Troop 066, girls are now active members of our troop
BSA expands program to welcome girls. Click here to see announcement on BSA Website 
Troop 166 has added a girls troop, Troop 066. The Girls Troop is a separate but parallel troop to the boys troop, sharing the Sponsoring Organization (Wedgwood Presbyterian) and the Adult Steering Committee. They have their own separate scout leadership: girls patrols, patrol leaders and staffing all of their own leadership positions.
Most activities are co-ed: outings, fund-raising, and meetings, while some activity are separate.
We welcome girls from Cub Scout Packs, but we welcome girls of all ages from 11 to 17 (or 10 years old and completed 5th grade.) The girls will be able to/expected to, earn all of the same ranks as the boys, including Eagle Scout.
For more information on girls and troop 066, contact Kirk Siqveland: scoutdad@humeris.net.
---
Mariners Scout Luncheon January 2020
50 Miler Backpack Outing 2019 North Cascades
---
2018 Victoria Bike Hike
Full Screen
---
 We are located in the Wedgwood neighborhood of NE Seattle.
We meet most Mondays, 6:30 PM until 8 PM, at the
Wedgwood Elementary School
in the gymnasium located at  2720 NE 85th St. Seattle. 
Directions
.
Please check our
Calendar
for current meeting information and
contact us
for a visit.   Troop photos on
shutterfly
, troop member log in required.
Troop 166 is part of the Chief Seattle Council, Aurora District, Boy Scouts of America (BSA)
Our sponsor is the Wedgwood Presbyterian Church

---
Fundraising: Compost Sales and the "Big Dig"
Every year the scouts sell approximately 50 bags of compost each. In 2017 and prior, the compost was ordered and delivered in bulk. The scouts, parents and guardians used to fill the bags with the compost and deliver to customers. In March of 2017, roughly 2500 bags of compost were sold. Starting in 2018, the Troop transitioned to factory filled bags.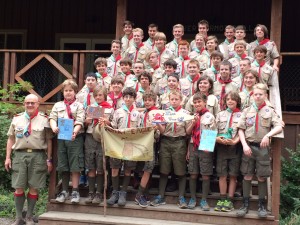 Important Documents: